Redistricting 2020
January 3, 2022
We will soon be kicking off the public engagement phase of the 2020 Redistricting process. Please help inform our engagement process, by taking this brief survey!
December 1, 2021
The City of Charleston legislative body is made up of thirteen (13) members representing twelve districts plus the Mayor. The City is constitutionally required to rebalance districts every ten years based on new data released by the US Census. This process is called redistricting. This page will be updated regularly with new information and resources to keep citizens informed and engaged throughout the process.
The City recently started the redistricting process. The data that is needed to redraw our political boundaries was released by the US Census on September 16, 2021. Our priorities for redistricting include the following:
One person, one vote (rebalance district populations)
Maintain District Contiguity
Constituent Consistency (minimize change to a voter's chosen representative)
Communities of Interest (places that share common interests or issues)
District Compactness (keeping districts reasonably compact geographically)
Later this month, we'll be launching a public engagement portal that will include a survey to inform the public meetings and redistricting plan. In January, we will begin to hold public meetings and workshops to gather information to create a final plan that will be adopted by City Council. The infographic below illustrates our anticipated timeline.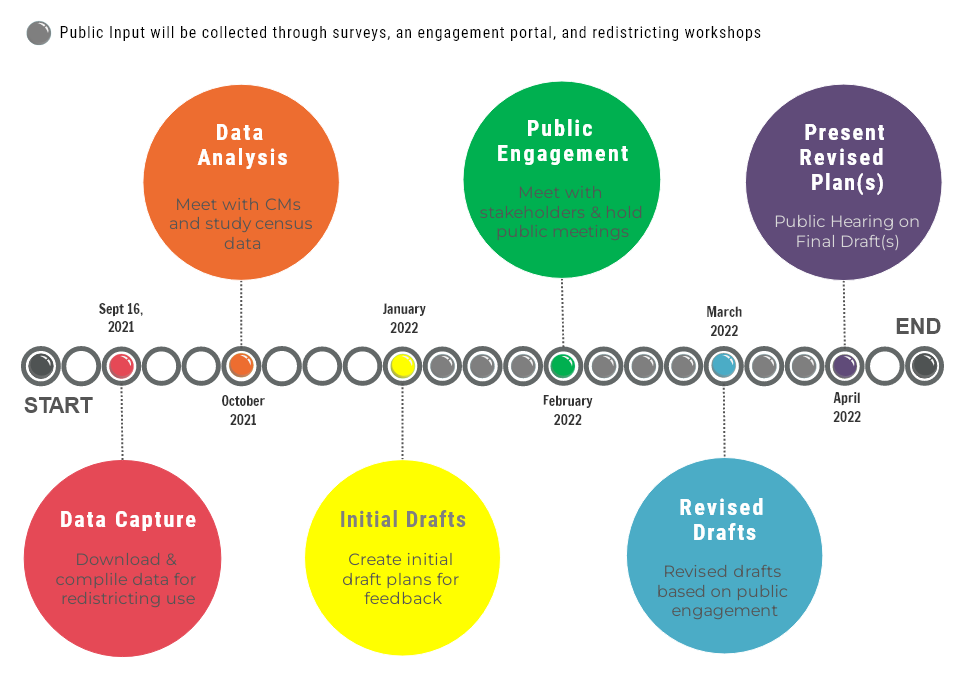 Redistricting Resources